Edward T.H. Shaffer was a Walterboro, South Carolina businessman, farmer, and historian. In 1939, he identified the 10 "best" plantation gardens in South Carolina. At that time the Berkeley-Charleston-Dorchester area population was only 167,000. Today these three counties are home to nearly 600,000 people.
<![if !mso]>

<![endif]>

Shaffer's 10 Best Colonial SC Gardens

| | | |
| --- | --- | --- |
| Garden | Location | Status |
| Michaux | Charleston | Threatened |
| Skieveling | Charleston | Destroyed |
| Cedar Grove | Dorchester | Destroyed |
| Oak Forest | Dorchester | Destroyed |
| Tranquil Hill | Dorchester | Destroyed, but studied |
| Newington | Dorchester | Destroyed |
| Broom Hall | Berkeley | Destroyed |
| The Elms | Berkeley | Threatened |
| The Oaks | Berkeley | Uncertain |
| Crowfield | Berkeley | Preserved |

<![if !mso]>

<![endif]>

Of his 10 gardens, six have now been destroyed. Archaeologists and historians studied only three of these 10 gardens. The best studied is Tranquil Hill in Dorchester. Research funded by the Summerville, South Carolina Van Malphrus Development was conducted by Chicora Foundation archaeologists in the fall of 2004.

Historical research revealed that the plantation was developed by Col. Charlesworth Glover, a Carolina Indian trader. The name Tranquil Hill was adopted by Richard and Ann Waring, who acquired the property in 1773. It was under their care that the gardens were developed.
A visitor, Elizabeth Anne Poyas, described the plantation in her book Our Forefathers: Their Homes and Their Churches as, "the most charming inland place, (with its numerous shady walks, its meandering creek, stylish gate and bridge)..." She went on to mention that the plantation was, "rendered more attractive by its beautiful southern court-yard, with its graveled walks, enclosed with living box, and containing flowers of every hue and tropical fragrance. To the warm, youthful feelings, the gardens were Hesperian, beautiful with beds of flowers, embowered walks, cool retreats and alcove seats. The widely extended fields were perfectly Elysian."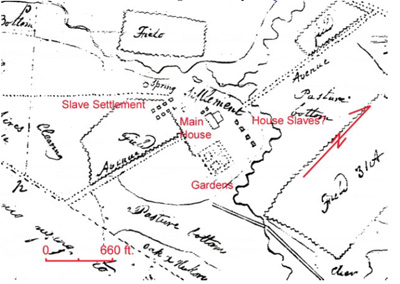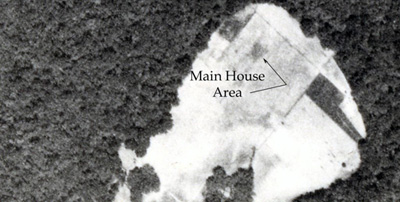 An 1800 plat shows the Waring settlement. The gardens are depicted as four quadrants southeast of the main house. Shaffer explained that by 1887 the "palatial residence" was only a "heap of bricks" and the gardens had been "cleared and plowed," covered "with thick second growth forest." Aerial photographs from 1938 show a stain that was the main house. All around it are plowed fields with no sign of a garden.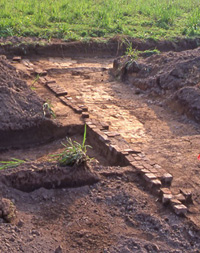 Although nothing was visible on the surface, the gardens gave up at least some of their secrets to careful archaeological study. Soils were studied for the chemicals they contained. Archaeologists found that the soil pH had been altered – making the garden less acidic and more able to support garden plants. Another essential plant nutrient, phosphate, was also higher in the Tranquil Hill garden than elsewhere on the archaeological site. This reveals that the owners were adding compost to their garden to improve the soil – just like gardeners today.

Archaeologists also studied the pollen and phytoliths recovered from the garden soil. This work revealed evidence of plants that might have been intentionally planted. Recovered was pollen of Artemisia, an herb, accent plant, and medicinal plant. Also recovered was pollen of Liliaceae, a member of the four o-clock family, and roses. Pollen of the pink family was found. Flowers in the pink family include Sweet William and carnations. Thus, archaeologists were able to identify some of the plants and flowers that were found in the Tranquil Hill gardens over 150 years ago!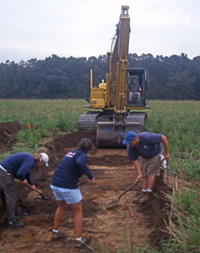 The gardens gave up additional mysteries during excavation. Chicora archaeologists found the northern edge of the garden, identified by a narrow planting bed. This would have been about 2˝ feet wide at the surface and about 2 feet in depth. This is perfect for the planting of boxwood or a similar hedging material. The soils were dark – indicating that the soil was amended with organics. The phytolith study suggests kitchen debris and ash were used as compost.
The one garden quadrant – or parterre – measured 220 by 120 feet, or 0.6 acre (that's about half of a football field).
Small structures were located at the northeast and northwest corners of the garden parterre. One was wood, the other brick. Both were only three-sided, with the north sides open. Both structures originally measured 15 by 24 feet. These likely represented what are known as garden follies – perhaps arbor alcoves intended for meditation.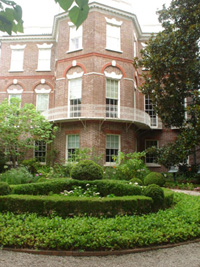 The archaeology also found postholes throughout the garden, as well as what were likely planting holes. Artifacts were uncommon – indicating that the garden wasn't used for trash disposal, but was kept clean.
Gardens didn't just exist on plantations – they were a common feature in urban settings as well. Charleston's wealthy planters almost always included a garden on their townhouse property. Archaeology is also being conducted in these urban settings. One of the best is The Charleston Museum's excavations at the Nathaniel Russell House in downtown Charleston, South Carolina.


Resources
Learn More About the Archaeology at Tranquil Hill
Other Web Resources
Gunston Hall Plantation Garden Archaeology
New England Landscape Design & History Association
Garden Archaeology at the Wren Yard, College of William and Mary
Mount Vernon's Upper Garden and Mount Vernon's Fruit Garden and Nursery
The Alliance for Historic Landscape Preservation
South Carolina Historic Landscape Initiative
Where to Find Library Books on Garden Archaeology
Yamin and Metheny, Landscape Archaeology
Kelson and Most, Earth Patterns: Essays in Landscape Archaeology
Noël Hume, Archaeology and the Colonial Gardener
Miller and Gleason, The Archaeology of Garden and Field
Taylor, The Archaeology of Gardens

Where to Find Library Books on Historic Garden Restoration/Preservation
Favretti and Favretti, Landscapes and Gardens for Historic Buildings
Adams, Restoring American Gardens