Interesting Observations
The editor of the Charleston (SC) News and Courier in November 1887, himself a Confederate veteran, wrote that the Confederate flag should not be displayed "at what is intended to be a national celebration or a state celebration. . . . Love it as we may, it is out of place save in our memories, in our museums, at our strictly Confederate reunions, and always, in our heart of hearts. No Confederate soldier worthy of this name is likely to dissent from this. The howl will come, if at all, from those who trade upon 'the gray' and they never wore it in battle."
General Robert E. Lee observed, "I think it wiser moreover not to keep open the sores of war, but to follow the examples of those nations who endeavoured to obliterate the marks of civil strife and to commit to oblivion the feelings it engendered,"
He also offered this advice to a Confederate widow expressing animosity toward the northern U.S. after the end of the Civil War, "Madam, don't bring up your sons to detest the United States government. Recollect that we form one country now. Abandon all these local animosities, and make your sons Americans."
Chicora's work with CAP
A little known aspect of Chicora's work is performing museum assessments through Heritage Preservation's Conservation Assessment Program (CAP). Recently our work at the South Carolina State University's I.P. Stanback Museum and
Planetarium was highlighted in the Institute of Museum and Library Services (IMLS) Blog. You can read more here. We are always proud to help make a difference and there is no question that the Stanback Museum is an exceptional example of how IMLS funds can make a huge difference in the preservation of our treasures. You can visit the IMLS CAP site here.
The photo here shows Debi Hacker working with students in the museum studies program. Debi has also been working with the Museum as a consulting conservator, helping to prepare exhibits, organizing storage, and responding to immediate conservation needs.
If you haven't had the opportunity to visit the Stanback Museum in Orangeburg, you should take the time. Learn more about the museum here.
New Publication on Cemetery Preservation Available
A new publication is now available that provides immediate advice on why and how to prepare a disaster plan for your cemetery, reviewing some of the more common cemetery problems, including hurricanes, tornadoes, flooding, and vandalism. It provides comprehensive and up-to-date information on recovery techniques, including FEMA funding. While other organizations have provided brief overviews, this booklet provides more detail and serves as a guide to developing a plan for your cemetery. The booklet can be downloaded here. Visit our Cemetery Publications page for additional resources.
Chicora Completes First Phase of Richland County Cemetery Survey
Chicora Foundation has completed the first phase of a cemetery survey in Richland County (see the news blurb below). As a result of this work, and the outstanding cooperation of organizations and individuals across Richland County, we were able to identify the locations for 463 cemeteries in Richland County. That's about one cemetery every 1.6 square miles!
In addition, the work produced a list of another 92 cemeteries whose locations could not be identified based on the information available to us.
While the primary goal of the work was to identify cemeteries, there were additional findings - presented as recommendations to the Richland County Council and the Richland County Legislative Delegation. Among those recommendations: the County needs to assume (or in some cases, continue) care for cemeteries with no legal owner. We also made recommendations regarding actions by the Richland County Planning and Development Department to provide appropriate protection to cemeteries in the County.
At a state level, we recommended that DHEC begin tracking cemetery locations and provide public access to this information. We also recommend modifications to South Carolina's law concerning disinterments, urging the incorporation of a requirement that burials over 50 years old be removed under archaeological oversight.
For more, read our report, available here.
For a recent State newspaper article on the work, read this.
Chicora Receives Grant from Richland County (SC) to identify cemeteries
Chicora Foundation has received a major grant from the Richland County Conservation Commission to identify and record cemeteries in the County. This first phase of the project and involves using a wide range of sources to identify cemeteries, including various on-line lists, property tax records, a review of Richland County plats, aerial photos, a number of historic maps, and other sources. Once identified we'll be obtaining UTM coordinates for the cemeteries, as well as the tax map number. We have already identified over 500 cemeteries and know that there are many more.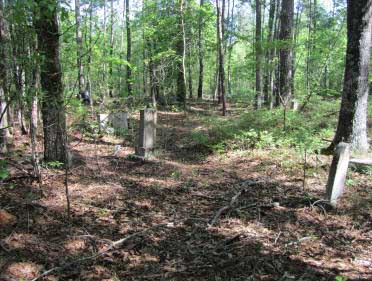 An important component of the project is soliciting the assistance of Richland County citizens who may have stumbled on a cemetery in the middle of the woods. Maybe you are a hunter and found a cemetery on hunt club property; maybe you're a land owner and know that you have one hidden on your land; maybe you've been doing genealogical research and have tracked down a long-lost family cemetery. You may even know that a cemetery exists, but aren't sure exactly where.
We need public support - please call us (803-787-6910) or email us (hacker@chicora.org) with any information you have. We may the cemetery already identified, but that's ok - because the next one you report we may not have any information on, so please contact us.
Why are we doing this? Too often cemeteries are found during development - a new big box store is being built, a road is under construction, and suddenly there is a media account with everyone saying they had no idea the cemetery existed. Well, we're working to make sure these cemeteries are known. That way there won't be any last-minute surprises; there won't be any expensive construction delays; and there won't be hard feelings and accusations about how we got to that point.
This handout provides additional information.
So, please, contact us with the cemeteries you're aware of. Thanks!