Chicora Completes First Phase of Richland County Cemetery Survey
Chicora Foundation has completed the first phase of a cemetery survey in Richland County (see the news blurb below). As a result of this work, and the outstanding cooperation of organizations and individuals across Richland County, we were able to identify the locations for 463 cemeteries in Richland County. That's about one cemetery every 1.6 square miles!
In addition, the work produced a list of another 92 cemeteries whose locations could not be identified based on the information available to us.
While the primary goal of the work was to identify cemeteries, there were additional findings - presented as recommendations to the Richland County Council and the Richland County Legislative Delegation. Among those recommendations: the County needs to assume (or in some cases, continue) care for cemeteries with no legal owner. We also made recommendations regarding actions by the Richland County Planning and Development Department to provide appropriate protection to cemeteries in the County.
At a state level, we recommended that DHEC begin tracking cemetery locations and provide public access to this information. We also recommend modifications to South Carolina's law concerning disinterments, urging the incorporation of a requirement that burials over 50 years old be removed under archaeological oversight.
For more, read our report, available here.
For a recent State newspaper article on the work, read this.
Chicora Receives Grant from Richland County (SC) to identify cemeteries
Chicora Foundation has received a major grant from the Richland County Conservation Commission to identify and record cemeteries in the County. This first phase of the project and involves using a wide range of sources to identify cemeteries, including various on-line lists, property tax records, a review of Richland County plats, aerial photos, a number of historic maps, and other sources. Once identified we'll be obtaining UTM coordinates for the cemeteries, as well as the tax map number. We have already identified over 500 cemeteries and know that there are many more.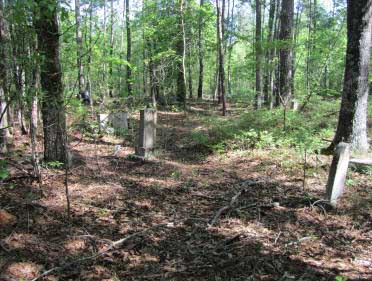 An important component of the project is soliciting the assistance of Richland County citizens who may have stumbled on a cemetery in the middle of the woods. Maybe you are a hunter and found a cemetery on hunt club property; maybe you're a land owner and know that you have one hidden on your land; maybe you've been doing genealogical research and have tracked down a long-lost family cemetery. You may even know that a cemetery exists, but aren't sure exactly where.
We need public support - please call us (803-787-6910) or email us (hacker@chicora.org) with any information you have. We may the cemetery already identified, but that's ok - because the next one you report we may not have any information on, so please contact us.
Why are we doing this? Too often cemeteries are found during development - a new big box store is being built, a road is under construction, and suddenly there is a media account with everyone saying they had no idea the cemetery existed. Well, we're working to make sure these cemeteries are known. That way there won't be any last-minute surprises; there won't be any expensive construction delays; and there won't be hard feelings and accusations about how we got to that point.
This handout provides additional information.
So, please, contact us with the cemeteries you're aware of. Thanks!